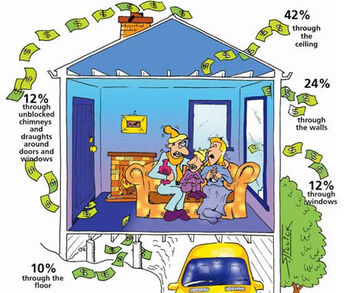 There are many ways to make your house more energy efficient and save money in the process.
They include:
Upgrading Attic Insulation
Energy Efficient Window Coatings
Energy Efficient Furnace or Air Conditioning
Finding & Fixing Air or Thermal Leaks
Fixing or Replacing Leaky Air Ducts
Energy Efficient Lighting
This article will explore the options to address energy efficiencies in these areas.
Attic Insulation
Reducing house heat or cooling loss through the attic can we one of the best things to focus on to make your house more energy efficient -- especially if it is an older house. There are a number of options to consider here.
Fiber Insulation
Fiber insulation is typically blown into the attic or laid down in rolled sections called batts. Fiber can be made out of fiberglass, cellulose, mineral wool or sheep's wool. Fiber insulation in the attic is placed between and on top of the rafters. It reduces energy loss by stopping heat or cool from escaping from your living areas into the attic.
Each of these materials have "R" values which represents the materials resistance to heat flow. The higher the R value, the better the insulation of that material and, in general, the more expensive the material is. The amount of insulation or R-value you'll need depends on your climate, type of heating and cooling system, and the section of the house you plan to insulate.
Here's a good link to determine how much insulation to add to a new or existing house: Insulation Calculator
Rolled in insulation can be a fairly easy do-it-yourself project, but blown in insulation is almost often a professional job.
Blown in insulation has an additional advantage over rolled in insulation as it doesn't leave gaps in which heat or cool can escape.
Spray-In Foam Sealing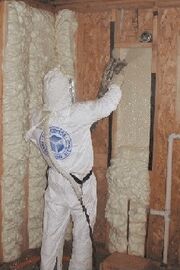 Spray-in foam sealing is a different approach to energy loss and is becoming more popular in new home construction. The foam is generally made polyicynene or polyurethane although other variants exist.
Spray in foam is almost always professionally installed and is applied to the underside of your roof and completely seals the attic from any air leaks from the attic.
This approach is very energy efficient and substantially reduces the temperature of your attic in the summer and increases it in the winter as the temperatures more closely represent those that are in your living spaces. An additional benefit of spray in foam is that it is also a noise barrier.
Thermal Shield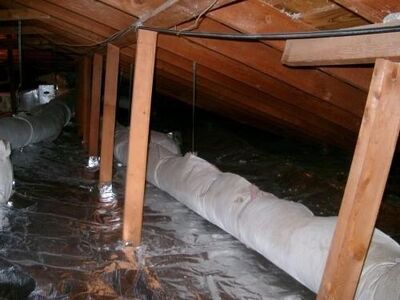 A thermal shield is also a reasonably new method of insulation. A thermal shield is a thin layer (looks like tin foil) that reflects radiant heat escaping from your living areas back into them instead of letting it escape into the attic. When installed in the attic, it can be either laid on top of the rafters, or applied to the underside of the attic roof or a combination of both.