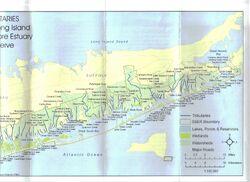 How is this temperature data collected?
Edit
Near surface water temperature has been measured regularly for the last 30 years in Niantic Bay by the Millstone Environmental Lab. Each year, temperatures are reported as seasonal averages. This data set represents the longest continuous record of water temperatures in Long Island Sound.
Average seasonal water temperatures have been slowly but steadily increasing at this location in Long Island Sound. Winter temperatures appear to be increasing more rapidly than spring, summer or fall temperatures. Increases in surface water temperatures have also been linked to observed changes in the fish community. Cold-adapted fish have been observed less frequently in recent years, while warm-adapted fish have been observed more frequently. The combination of increasing water temperatures and changing fish community is believed to be an indicator of climate change.
The overall mean from 1976 through 2011 is
3.9°C for winter,
11.1°C for spring,
19.9°C for summer, and
12.1°C for fall.
data notes
Edit
Winter defined as January-March,
spring as April-June,
summer as July-September, and
fall as October-December.
Community content is available under
CC-BY-SA
unless otherwise noted.