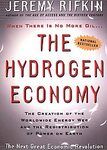 The Hydrogen Economy by Jeremy Rifkin (2003)
The message of The Hydrogen Economy is simple: The earth is depleting its oil reserves and even the most generous estimates show oil reserves peaking in about forty years. The specter of global warming and the rise of Islamic fundamentalism in the oil-rich regions of the earth worsen the problem considerably. The answer, asserts Rifkin, is to embrace a new energy source that is just now gaining public attention: H.
This abundant element, found everywhere on earth including in air and water, can be transformed, using sustainable methods, into a potentially limitless form of clean-burning fuel. But this potential will founder unless we act now to create the necessary global infrastructure before the factors above overtake us. If we embrace this momentous opportunity, Rifkin says, we will also be able to reinvent the global economy as one in which an inexpensive energy grid provides affordable, efficient fuel for virtually everyone on earth. If we fail, our current economic regime-built exclusively on fossil fuels-will collapse. As the concept of a H-based future grows in the news, The Hydrogen Economy will lead the way.
Readers Review